Pocket Bike
Our Pocket Bike Rides like a GP Motorcycle
Everyone loves the pocket bike. Looking and feeling every bit like their full-sized motorcycle counter-parts, our pocket bikes are true GP Motorcycles. Whether it's for racing or recreation, a pocket bike style motorcycle will get you there very quickly.
The Pocket Bike is the Hottest Addition to the Scooter Market
Practically scaled down miniatures of the real thing, these motorcycles have been selling fast. For this reason alone, pocket bikes have quickly become one of the most popular mini moto out there on the road. Pocket bikes are considered a part of the small moto family. However, because of their distinctiveness in styling and performance, pocket bikes are in a class of their own.
Besides looking great, our pocket bikes flat out perform. Each of our pocket bikes employ the same high quality Japanese technology you'd expect from a full-sized, high-performance bikes-style motorcycle but these machines come equipped with a unique GP feel. With one of our pocket bikes, you can enjoy the benefits of racing for just a fraction of the cost of a full size moto.
Although these minimotos are suitable for any age rider, we strongly urge that all underage riders have adult supervision. To prevent significant injury, protective gear should be worn at all times.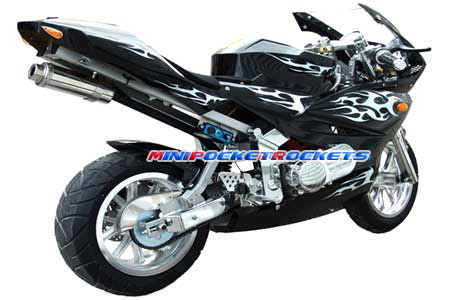 Choose from these Great Rides
Whether you are a beginner trying to improve your riding skills or an experienced racer, the MiniPocketRockets pocket bike deliver non-stop excitement. Take notice of their strong alloy frames, their long racing forks and soft leatherette seats and go in style. Our pocket bikes have fuel-efficient 110cc engines with a pull start, front and rear disc brakes with automatic power off system and electric start. Every pocket bike we carry meets the same quality standards as all of our other mini motos.
The Viper
The Viper pocket bike is one heavily tricked-out bike with a high class performance that matches its showy looks. The 110cc engine on this bike was designed with bottom-end torque in mind. Extra smooth handling, race seat and front-crouch riding position ensures hours of comfortable racing.

Read more
The Nitro
Our Nitro pocket bike is a true bike for every day riders and racing enthusiasts. Modeled after the best race bikes offered by Yamaha, Honda and Kawasaki, the Nitro style moto is in a class of its own. From the smooth bends of its race exhaust piping to the sculpted capacity gas tank, this motorcycle was designed for hardcore racers who demand power and speed.

Read More
These pocket bikes are in limited production and are selling out fast. But don't wait until it is too late. Get yours today!
We are committed to helping you enjoy your purchase from us, even well after the pocket moto is purchased. What's more, we will be here for you every step of the way providing you with bargain upgrades, quality parts and FREE technical support for life! We are pocket bike enthusiasts, just like you, and have sold tens of thousands of these products over the past few years.
We offer several convenient ways for you to contact us and look forward to hearing from you.