Mini Motorcycles
Our Mini Motorcycles are Zooming across America
Our gas powered mini motorcycles are serious racing vehicles. Looking and feeling every bit like a full-sized motorcycle; our mini motorcycle is one tough pocket rocket, built for the wide open road.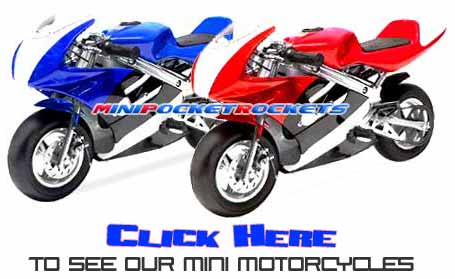 A mini motorcycle is smaller, lighter and cheaper then their full-sized counter part but can be purchased at only a fraction of the price. But make no mistake, these mini motorcycles are definitely not toys. They are highly efficient, gas-and-oil engines that can reach high top speeds. Our mini motorcycles flat-out perform. Whether you are a beginner trying to improve your riding skills or an experienced racer, a MiniPocketRockets.com mini motorcycle delivers non-stop excitement.
A History of Mini Motorcycles:
Mini motorcycles are called by a variety of names including mini choppers, super pocket rockets, or scooters. Part of the pocket rocket family, mini motorcycles are mix between a regular chopper-style motorcycle and a 70's-style Yamaha racing bike.
Choppers have a unique and distinctive American history. The "chopper" originated from certain customized motorcycle designs of the 1950s, which were chopped down to make them more appealing. Because of their great performance and fascinating looks, interest spread fast for these vehicles among both riders and enthusiasts alike. As they came out the American subculture, and into the mainstream, their popularity spread quickly.
Interestingly enough, a similar phenomenon is occurring in the short history of pocket rockets. As these have been introduced to the market, mini motorcycles have become the must have pocket rocket. Thanks in part to the Internet; riders have been able to spread the enthusiasm for mini choppers throughout the world. I suppose history does indeed repeat itself.
Our Mini Chopper Line
At MiniPocketRockets.com we have the top of the line mini motorcycles for you to purchase. Both of our mini choppers have fuel-efficient 49cc engines with electric starts, front and rear disc brakes with automatic power off system and turn signals and so much more.
The Predator
Our Predator mini chopper is one heavily chromed-out bike with a high class performance that that matches its showy looks. The 49cc engine on this bike was designed with bottom-end torque in mind. Extra smooth handling, plush seat and laid-back riding position ensures hours of comfortable cruising.

Read more
The Vulkan
Our Vulkan mini chopper is a true bike for every day riders and racing enthusiasts. Modeled after the best road bikes offered by Harley, Honda and Kawasaki, the Vulkan style bike is in a class of its own. From the smooth bends of its chrome exhaust piping to the sculpted industrial gas tank, this motorcycle was designed for hardcore riders who demand power and comfort.

Read More
Take the High Road
A mini motorcycle from MiniPocketRockets.com is simply superior to all other brands. We carry only the best mini motorcycles that meet our strict 38-point quality standards. There are imitation mini motorcycles made to look similar to ours, but they have inferior construction and slower motors. The pictures you see on our site are taken of the actual mini motorcycles. You can actually see & feel the difference just looking at our mini motorcycles. Dare to compare ours to the rest of the competition. There is simply no comparison.
MiniPocketRockets.com sells a variety of mini motorcycles to fit everyone's personal tastes and styles. Our mini motorcycles are very affordable and also gas-efficient. What's more, we will be here to assist you every step of the way, providing you with bargain upgrades, quality parts and FREE technical support for life!
So, what are you waiting for? Get your mini motorcycle from MiniPocketRockets.com today!