Mini Bikes
Mini Bikes equal FUN for the entire FAMILY
MiniPocketRockets' mini bikes are designed with Japanese innovation, Italian craftsmanship, and a truly American style. Our mini bikes deliver ultra high performance matched with unbeatable quality. Nationwide, mini bikes have been growing in popularity, as more and more people learn of their benefits. Not only is a mini bike convenient and fast but it is a very affordable way to enter the world of motorcycle racing and riding.
When you order a mini bike from MiniPocketRockets.com, you become our most important customer. Our mini bikes look just like the real thing but go for thousands of dollars less. These gas-and-oil machines are becoming the "must have" item of the millennium. The cost of one of our mini bikes is even cheaper than taking the family to an amusement park. Wouldn't you rather be zigzagging your way on a MiniPocketRockets brand mini bike than zigzagging your way in line to see a mountain made of metal?
Trust in Us for Mini Bikes
Buying a mini bike from MiniPocketRockets means you'll be getting years of Industry expertise along with your purchase. With over four years of selling mini bikes online and over ten thousand satisfied customers, you'll be able to trust your online shopping experience with us. We guarantee your transaction with us will be unlike one you'll get anywhere else.
Here at MiniPocketRockets, we are as passionate about mini bike racing as are you. We've been racing mini bikes ourselves for many years and can help you no matter what your question.
Customer Service and Support for Mini Bikes
While most companies say they offer customer service, we actually do. In addition to providing you many convenient ways to contact us, we are committed to helping you well after the mini bike is purchased.
We firmly stand by every one of our products, so all you have to do is simply enjoy your new mini bike. What's more, we will be here to assist you every step of the way providing you with bargain upgrades, quality parts and FREE technical support for life!
Many retailers will sell their mini bikes without offering technical support or replacement parts (i.e. tires, brake pads, etc). We have a knowledgeable and helpful staff that will assist you in maintaining your pocket bike well after your purchase. We are committed to building a strong and lasting relationship with each and every customer.
With proper care and maintenance, these mini bikes will provide years of fun and excitement for you and your family. We will be there every step of the way to help you get the most out of your bike.
Our mini bikes are truly designed for everyone in the family. Our mini bikes are made not only for the young but also for the young at heart. We keep that in mind with every careful selection of mini bikes we supply. Our mini bikes are flying out of our warehouse, so be sure to order yours today.

Example:

The RX1 Traxxis Mini Dirt Bike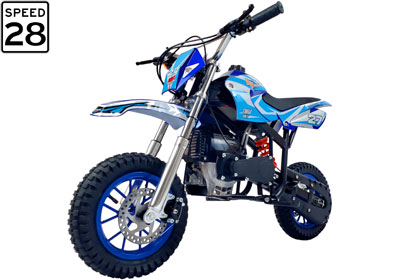 Smallest Mini Dirt Bike on the market. Yet it fits children and adult riders comfortably. This Mini Dirt Bike features a revised 4-Stroke motor for ultimate off-roading capabilities. High ground clearance and knobby all terrain tires ensure the best performance.

Read More